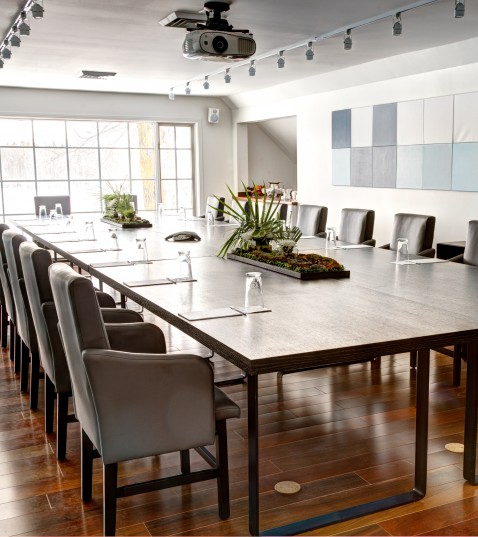 All the meeting room have: screen, projector or TV, speakers, flip-chart, WI-FI  connection.
Les Demoiselles (26 x 42 feet- ceiling height 8-9 feet)                   Situated with a private waterfront garden terrasse, Les Demoiselles is a dynamic reunion hall with its majestic windows that will accommodate comfortably groups between 20 and 40 persons.
Petit-Foyer (26 x 42 feet- ceiling height 9 feet)                                Located on the ground floor, with a beautiful view on the river. Capacity 20 to 40 people.
St-Hilaire (15 x 32 feet)
This is the most popular reunion hall asked ; for its magnificent view overlooking the Richelieu river and the mountain, as well as the gigantic table, can accommodate 14 to 18 guests comfortably, truly an "Out of the box brainstorming happening" reunion hall. 
Patriotes (40 x 11,5 feet - ceiling height : 8,5 to 12 feet )
Located on the second floor, Les Patriotes is the perfect reunion hall with its unique table for meetings This hall overlooks the river and can accommodate 18 persons.
Les Îles (11 x 22 feet)
A secluded alcove on the second level, gathers creativity and ideas between 2 and 7 persons, overlooking the river.
Lounge (26 x 26 feet).
Located on the second floor, the Lounge with its cathedral ceiling offers a breathtaking view of the Richelieu River. The wooden fireplace offers a warmth ambiance during the winter season. Maximum capacity: 18 persons 

Meeting rooms details 
(48 Ko)