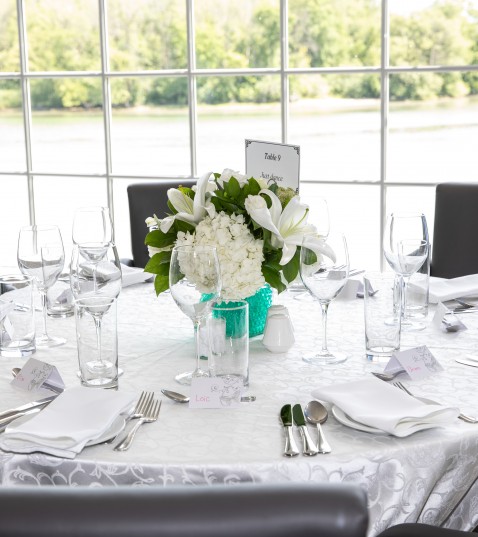 La Verrière ( 26 x 16 feet - ceiling height 9,5 feet )
Adjacent to the Dining Room, in all its privacy, the majestic windows offers a unique view of the site and river. The oval table can reunite up to 22 guests comfortably. We can possibly welcome 32 persons with 2 rectangular tables.
Capacity: 20 to 32 persons
No dancing floor
Les Demoiselles (26 x 42 feet- ceiling height 8-9 feet )
Situated with a waterfront garden entrance. A private terrasse awaits your guests for cocktail with an impeccable view of the river and the "Mont Saint Hilaire".
Capacity: 35 to 60 persons
Dancing floor
Le Petit Foyer ( 26 x 43 feet - ceiling height: 8 feet )
Situated on the main floor, the "Petit Foyer" hovers the Richelieu River, its wall to wall windows offers a spectacular view of the gardens, the river and the neighboring islands.
As well as being classic and comfortable, this hall has immediate access to the principal terrasse to serve cocktails for your guests.
Capacity maximum : 60 to 70 persons
Dancing floor / lounge: immediate access with a panoramic view of the river